About Us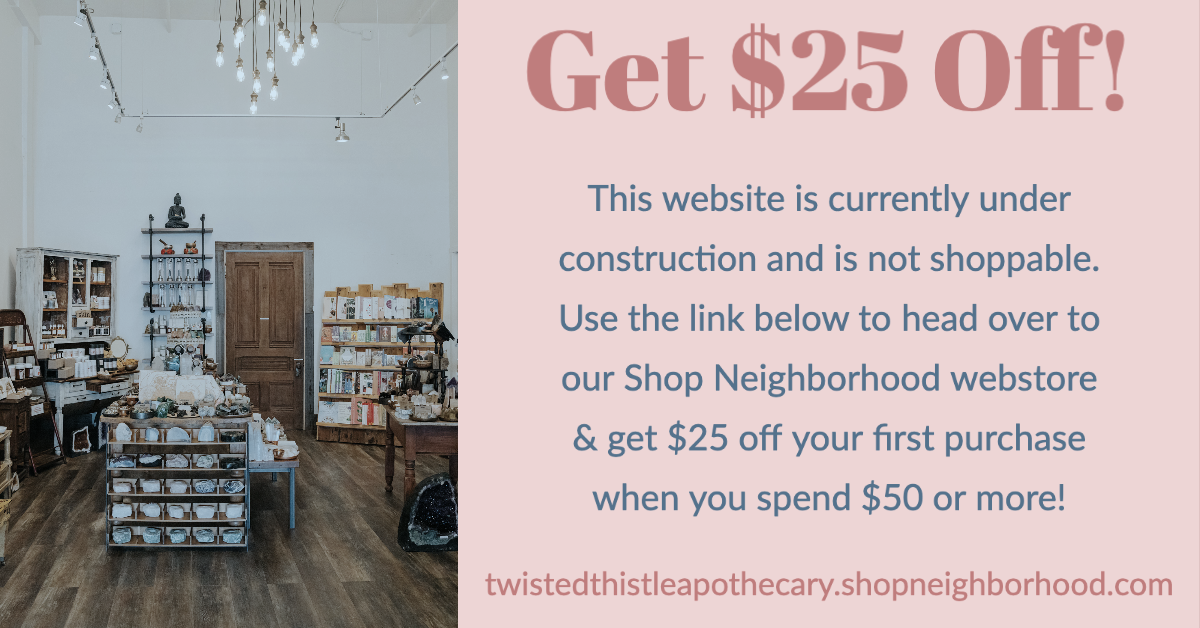 Because this site is under construction, we recommend heading over to our only current shoppable site. Click here to shop now AND save!
This site is currently offering a very special deal! When you spend $50 or more on your first site purchase, you will receive $25 off! Click here to redeem this offer now!


Firstly, since most people won't know, Apothicaire is a play on the word, Apothecary, which is an olde timey word referring to the use of herbs as aids to fight illness and increase health (two separate ideas which often get rolled into one in the Western view of healthcare - typically dealing only with the first part - we'll get into that more later!) The Twisted Thistle part suggests that in addition to the healthy side of herbs (St. Mary's Thistle can be a great aid in stimulating the liver and bowel), we love using herbs for enhancing the fun sides of life - we need to Twist a bit of fun into these busy lives!
(Plus we just like the sound of it: Twisted Thistle Apothicaire, or TTA for short!)

TTA is a culmination of years of study and experience using herbs personally and helping others discover for themselves this amazing world of brilliant plants that have been used for thousands of years for their widely-recognized beneficial effects. These effects range from stimulating energy to helping bring sleep; easing physical pain to easing stress and anxiety; increasing the effectiveness of the immune and nervous systems to increasing your nutritional intake! We've really come to believe that there is an herb that can help with any ailment of the human experience!  It's just a matter of finding the right herb or combination of herbs for you!

These herbs have been used for thousands of years for their claimed effects, and although the countless millions who have benefitted from the power of these plants is a pretty amazing statement, there's nothing like trying them for yourself! Some herbs are more immediately noticeable; others offer their best effects when used over time - either way, those who have been touched by the power of herbs will attest to their profound gifts! We see it daily in our customers who come visit our two shops in the San Francisco Bay Area, and we hope we can make even more people shine with health through the wide world of the internet! ;)

If you have any questions, please feel free to reach out to us. We'll get back to you ASAP, but please keep in mind that we can't offer health advice or prescriptions to herbs - it's just not feasible - but if you have any general questions about the herbs or our site, please send them through! (Also, remember that we're a little Mom and Pop kind of shop, so it may take a day or two!)