We're hitting the road for the weekend. When ever we jump in the car for a long drive we usually make a green shake to keep us going. Mainly so we don't have to stop and get unhealthy food in a little town with no options.

I've discovered through the process of making some pretty disgusting green shakes a couple of elements that are necessary to make a green shake delicious
We're hitting the road for the weekend. When ever we jump in the car for a long drive we usually make a green shake to keep us going. Mainly so we don't have to stop and get unhealthy food in a little town with no options.

I've discovered through the process of making some pretty disgusting green shakes a couple of elements that are necessary to make a green shake delicious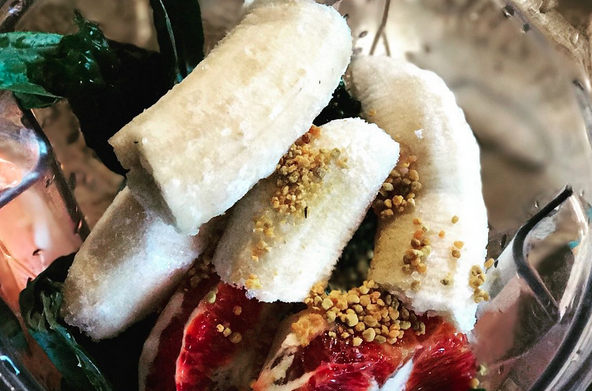 Key components of a green shake
*Coconut water: I've discovered is what makes green shakes yummy (especially if you don't want to use a banana)
*Adding in a nut to give your shake some protein and fat, and a textured of creaminess is awesome and it'll sustain you a lot longer because of it. My favorite is hemp because it's one of the highest in protein and is really creamy, but almonds, and cashews are also great.
*Greens - Chard, Spinach, Lettuce mixes, and cucumber are all lighter and more neutral in flavor. I use a majority of these and always add in a couple of leaves of a more intense green like Kale or Collard or some other bitter green. The key is you don't want to use all bitter greens for your green shake if you want it to taste nice.
*Fruit - choosing a fruit that's high in water content I found is best. I.e. Watermelon, orange and berries. Berries aren't necessarily super high in water but they do add a great flavor twang and great vit C content among other vitamins and minerals.
*SOME EXTRA GOODNESS - just a secret - Turmeric Paste tastes amazing in green shakes that berries are in.
- Bee Pollen is a nutrient dense delicious add in that won't disturb the flavor balance of your shake.
- Maca is protein rich and a yummy add in that won't mess with the flavor either. ...

MY ALL TIME R E C I P E
...
For each serving add
1 cup water
1 cup coconut water
1 orange
1 frozen banana
2 tbsp Twisted Thistle Hemp Seeds or Almonds
1-2 tsp Twisted Thistle Bee Pollen
1-3tsp Turmeric Paste
2-4 leaves Chard (depending on size)
2 leaves of Dino Kale
1 handful of Lettuce
...
Wiz that Baby up and your good to go!!
...